Первый анальный секс для худышки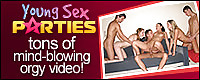 Поделитесь впечатлением о просмотренном видео и посетители сайта MnogoPorno.net будут тебе благодарны.
Duration: 8min 00sec
Views: 1 863
Submitted: 2 years ago
Submitted by:
Description: Masha is happy about her first ever anal experience and why not? With a handsome guy like Garry teasing and pleasing her pussy in a variety of ways she feels like her ass deserves some attention too. Her lover is both gentle and passionate at the same time. His big cock makes her moan of pleasure as she sucks it really deep and takes it in her all fuckable holes like a good slut. Welcome to anal porn, cutie! We love having you here.