Сделал ее напряженную задницу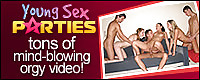 Поделитесь впечатлением о просмотренном видео и посетители сайта MnogoPorno.net будут тебе благодарны.
Duration: 6min 10sec
Views: 2 026
Submitted: 2 years ago
Submitted by:
Description: When a gorgeous babe like Janna whispers into your ear I want your cock in my ass today you feel lucky, intrigued and horny at the same time, just like Matt feels today. Hes been dating this chick for a while and today they take their relationship to a whole new level by trying anal sex for the very first time. Beautiful young couple and beautiful lovemaking with gentle caress, unmatched passion and spectacular orgasms. A must-see!